It is a very busy cafe, where everyone goes to hang out. Emma and Ash work at the Juice Net, where they make smoothies of every taste, size and color. It also make some food like burgers, french fries, and others.
The JuiceNet appears in Series 1 and 2, but then in Series 3 it becomes Rikki's Cafe. A lot of things have happened at the Juice Net, for example:
Lewis' Wish Potion goes out of control and takes over half the cafe.
Cleo becomes a Siren and puts all the boys into a trance while she sings.
Cleo, Emma and Rikki find out about the freak storm that hit Mako Island.
Cleo finds Charlotte's secret diary.
Emma finds Miriam frozen in an ice cube.
Charlotte shows Lewis and the girls their powers.
Charlotte discovers her grandmother was a pretty mermaid.
Lewis and Nate have a fight and Charlotte uses her powers against Nate in public for sweet revenge.
Miriam causes trouble over Rikki's Locket.
And many more... It is unknown to why the JuiceNet Café closed down in Series 3, but it can be assumed that the business was failing.
Cleo's House is just off the Marine. It's a big house, with a large garden and a jetty for mooring boats.
Lots of scenes have taken place at Cleo's House, such as:
Cleo's House
Cleo becomes a mermaid
Charlotte discovers her first mermaid power
Cleo discovers her new power to create wind
Cleo and Kim find out that their father is getting married
Cleo finds a missing pelican
Bella gets kidnapped by the water tentacle
Emma discovers her first mermaid power
They join the necklaces together to make a full moon and make the power go out.
Emma's House is located just off the Marine.
It is a large house, which is very modern.
A lot of scenes have taken place in Emma's House. For example:
Emma, Cleo and Rikki pretend to be ill, because of the rain
Emma becomes the first girl to be moonstruck
Emma turns into a sea monster and eats 2 whole lobsters
Ash prepares a romantic meal, when Cleo and Rikki are moonstruck
Emma discovers her powers
Several parties
All the girls become moonstruck.
This house was used for the final episode when Charlotte Watsford loses her powers and tail.
Rikki's House doesn't appear very often in H2O.
It first appears in the episode "Wrong Side of the Tracks"
Rikki lives on a trailer park with her father, after her mother left. Her father struggles with money.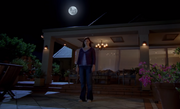 Charlotte's House, is where Charlotte Watsford lives with her mother Annette Watsford in a large house on the banks of the canal, it has a large garden, with a swimming pool and a terrace, where Charlotte talked to her mother about Gracie Watsford.
Charlotte's house only appears in series 2 and only in a few episodes. Memorable Scenes:
Charlotte throwing Lewis McCartney a surprise birthday party.
Charlotte showing her mother the old film that she stole from Cleo's House.
Charlotte creating a frozen ball of water in the shape of Cleo's face and throwing it into her swimming pool.
She intentionally gets moonstruck and lures the other mermaids to Mako Island, but unfortunately Charlotte herself loses the powers there, forever!
Tell me what information you want next in the comments!